West Michigan Lodging Guide
West Michigan Guides Stock Photo
West Michigan Lodging Guide -- Where to Stay
Here, in our West Michigan Lodging Guide, we provide you with a directory of hotels, motels, resorts, cottages, and bed & breakfasts from which to choose. Some are just right for families, and others are perfect for a romantic getaway.
Where you stay for the night can make or break your vacation, and even though you may not spend a lot of time in your room, you still want a good night's sleep. The businesses included in our West Michigan Lodging Guide are promised to be clean, comfortable, and affordable.
Resorts, Cottages, and Vacation Rentals
Wedding & Special Occasion Lodging
TRAVEL TIP — Be sure to reserve your vacation rental early, especially if you plan to travel in the peak summer season, or you may find limited availability for the type of lodging you prefer, in the town you plan to visit. 
Read Our Stories About Featured West Michigan Lodging Businesses...
Located within the Manistee National Forest, Cabin Fever Round Lake Resort specializes in relaxing vacations and great camping experiences.
Lodging and Camping Destinations...
Discover places to stay by selecting from the towns, counties, lakes, or rivers in West Michigan.
Grand Traverse County's lodging facilities provide all the amenities to make your stay enjoyable and keep you coming back. A variety of motels and hotels welcome you with clean rooms and impeccable service. Perhaps you're looking for a romantic inn with a whirlpool or fireplace, a rustic cabin, or a furnished rental home- the choices in Grand Traverse County are endless.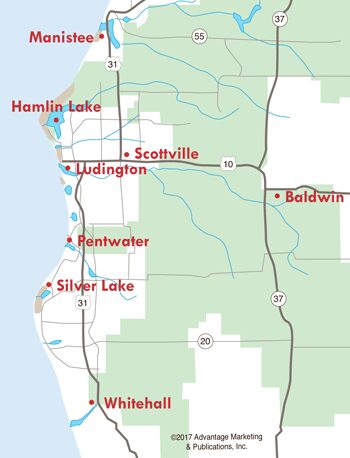 Find Lodging and Camping by Destination:
WHY STAY IN THE LUDINGTON AREA?
Ludington Area Lodging — Ludington is the home port for the S.S. Badger car ferry, and a popular harbor town for vacations. Don't miss seeing the Ludington State Park, voted best in the Midwest!
Hamlin Lake Area Lodging — If your idea of the perfect vacation is by the lake, be sure to visit Hamlin Lake, and enjoy boating, fishing, swimming, and more!
Scottville Area Lodging — Scottville is a small, rural town along the Pere Marquette River, and is best known for the Scottville Clown Band, and the West Michigan Old Engine Club events.
Pere Marquette River Area Lodging — After canoeing the scenic Pere Marquette River, or fishing for a trophy steelhead, find rest at a place to stay along the river.
WHY STAY IN OCEANA COUNTY?
Silver Lake Sand Dunes Area Lodging — The Silver Lake Sand Dunes is a favorite vacation spot for dune rides, watersports, and more!
Pentwater Area Lodging — While visiting the quaint village of Pentwater along Lake Michigan, be sure to stay awhile at a nice little spot in town, or find more lodging options nearby.
Manistee Area Lodging — Manistee is a unique Victorian Port City located along the Manistee River. Be sure to enjoy the riverwalk, and an abundance of natural areas to visit.
More Regional Business Categories for West Michigan...
Looking for a new car or RV, or need repairs on your vehicle? Find mechanics, body shops, friendly car/RV dealers, and RV specialists here.