Photo by Julien Lanoy on Unsplash.com
Your Adventure Awaits in Baldwin
Set in the heart of the Manistee National Forest, Baldwin is a haven for those who enjoy the great outdoors. Surrounded by many lakes and rivers, visitors to Baldwin love the area as a place to fish, camp and hunt. Here you won't find large hotels and restaurants… just cozy campgrounds, comfortable cottages and family-owned restaurants. The locals welcome you with friendly smiles and small town hospitality.
The Pere Marquette River is a designated National Wild and Scenic River covering 66 miles over four counties. It flows westerly from Lake County, from Baldwin to Ludington draining into Pere Marquette Lake and eventually Lake Michigan. The PM River is not deep, averaging two to four feet deep and about 30-40 feet wide. This is a popular river for fishing and fly fishing, with anglers hoping to catch a trout or steelhead. Being a relatively calm river, this is the perfect river for taking a canoe or kayak trip. Many canoe liveries are found in the area and over 2,000 private campsites are available along the watershed.
Two major festivals are the highlight of the summer, making Baldwin come alive with activity. The Blessing of the Bikes is held the third Sunday of May, bringing thousands of motorcyclists into town for the annual "blessing" of their motorcycles at the Baldwin airport. The Troutarama takes place over a long weekend in mid-July, featuring entertainment, fishing tournaments, food booths, grand parade and midway. The Troutarama celebrates  the brown trout that were first introduced into the Baldwin River in 1884.
The Manistee National Forest spreads out throughout nine counties and 480,000 acres. This wilderness brings hunters to the area, as well as hikers and anglers. People enjoy the forest all four seasons from snowmobiling in the winter to camping in the summer. There are over 300 miles of ATV/ORV trails, and 100 miles of the North Country Trail travels through the Manistee National Forest.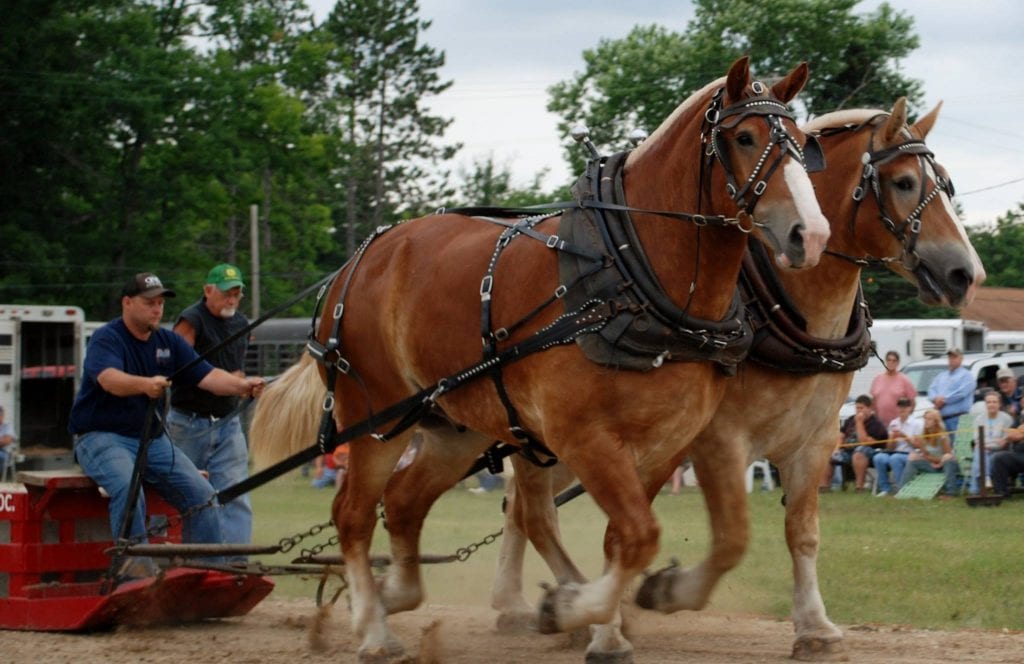 Baldwin is the county seat of Lake County, accessible by highways US-10 and M 37. It is aptly named, as there are over 100 lakes in the county, the largest being Wolf Lake and Big Star Lake. Other communities within Lake county are Branch, Chase, Irons, Luther and Idlewild. There are 200,000 acres of public land available to enjoy, so there's always something to do in the natural wonderland of Lake County.

Whether you come for a festival or a vacation, you'll return time and time again to the endless nature and boundless adventure found only in Baldwin!
Discover Baldwin Businesses
Baldwin is known for two very popular events that happen each year. In May, thousands of motorcyclists descend upon the area for the Blessing of the Bikes. In addition to the blessing ceremony, there are vendors and tattoo artists on-site. And in July, Baldwin presents Troutarama. This four day festival includes rides, a beer tent, live music, and more.
Directions
Baldwin is located approximately 30 miles east of Ludington when taking US-10 to M-37.