Scottville's West Shore Community College
Photo by West Shore Community College
West Shore Community College, located at the intersection of Stiles and Sugar Grove roads in Mason County, serves the communities of Ludington, Scottville, Manistee, and surrounding areas. Set upon 360 beautiful wooded acres, West Shore has a total enrollment of roughly 1,600 students, both full and part time and offers 14 Associate of Applied Arts and Sciences Degrees. Many students begin their college careers at West Shore, then transfer to larger schools. In these economic times, it makes sense for students to get their core classes done at a community college and save money.
Recreation Center
With today's focus on fitness, now may be the time to check out the Recreation Center at West Shore Community College. Not just for students, the Rec Center is open to the public and offers a variety of activities for people of all ages.
Wellness Center
Open since 1998, the state-of-the-art Wellness Center features the "Aerobic Circuit" training system, which consists of 10 weight machines and 10 stationary bicycles. The focus is on cardiovascular fitness, but flexibility and muscular strength can both be attained. The Wellness Center offers treadmills, ellipticals, recumbent bikes and stair climbers for a truly great workout. Whether you're looking to lose weight, gain strength, or just stay in shape…the Wellness Center has exactly what you need. Hours are 6am-8pm Mon-Wed-Fri, 7am-8pm Tues-Thurs, 8am-8pm Saturday and noon-5pm on Sunday. There is an orientation session that must be taken before using the Wellness Center.
Pool
Swimming is a terrific exercise, and with the pool at the Recreation Center, you can enjoy swimming all year. The 25-meter pool is maintained at a comfortable 82 degrees, has a 3/4 meter diving board plus a handicap access chair. Open swim times are Mon-Fri 5-8pm, Saturday 3-8pm and Sunday 2-5pm. When swim lessons are in session, open swim will only be available from 6-7pm on Tuesdays and Thursdays. Times for Lap Swim are Mon-Wed-Fri 6-9am and noon-2pm, Tues-Thurs 7-9am and 11am-1pm, Sunday noon-2pm. Lifeguards are on duty, and there is also a whirlpool in the pool area.
Other Activities
The Recreation Center has one racquetball court, and an arena with six basketball goals, jogging/walking lanes, and areas that can be set up for indoor volleyball or tennis. You can also sign up for some of the community service classes that are offered, including swimnastics, aquarobics, body shaping, stroke development, yoga and full body flexibility. 
Fees
There is a daily fee of $5.00 per person, $4.00 senior or $15.00 per family for using any of the facilities within the Recreation Center. Lockers are also available for a daily, monthly, or annual fee. Or choose to purchase a membership: Single adults are $150 for four months or $300 per year, families $210 for four months or $420 per year. Seniors get a reduced rate. Groups and organizations can also rent the facilities at the Recreation Center.
Contact the Recreation Center for more information!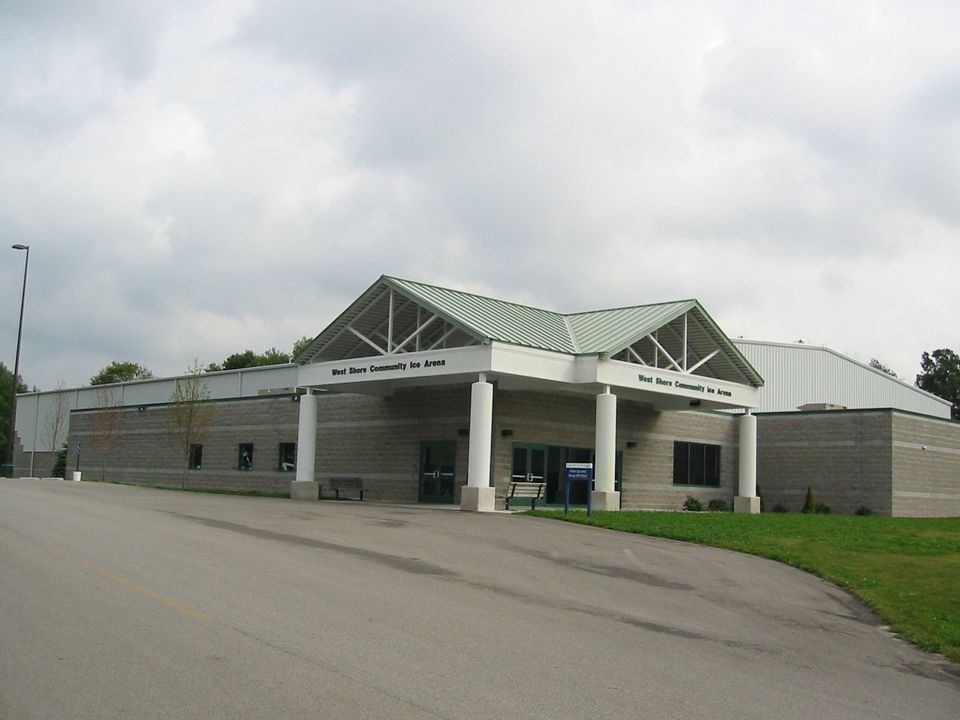 West Shore Community Ice Arena
How fortunate we are to have an ice arena right here at West Shore Community College in Scottville. Located on campus across from the Recreation Center, the ice arena is home to the West Shore Wolves and Manistee Chippewa Hockey teams, public skates, tournaments, and skating clinics.
Programs
In addition to open ice skating, the arena offers Youth Learn to Play Hockey during the fall and winter. This program is for 4-10 year olds who want to learn hockey skills and still have fun. There's also a program for adults who want to learn to play hockey, which focuses on rules, skating, and hockey skills. For older youth ages 6-18, each skater is placed on a team based on their skills, and no one is turned away. There is also a Wednesday draft league for both men and women, allowing them to play hockey in a competitive but fun atmosphere.
Teams
The Manistee Chippewa Varsity Hockey Team began in 2008 as a way to get a local hockey team together to compete against regional teams. The Chippewas are comprised of students from Ludington, Manistee, Mason County Central, Hart, and Shelby schools. The West Shore Wolves is for younger kids who love hockey and want to gain experience before trying out for the Varsity team.
Pro Shop
Located at the ice arena, the pro shop offers a variety of brand names, including Easton, CCM, Eagle Hockey, Bauer/Nike, Sherwood, Itech, Mission and Hespler. Prices are competitive and they will custom order if your item is not in stock. Other services found at the pro shop are sharpening plus profiling and repair.
Ice Hockey Tournaments
West Shore Community Ice Arena hosts several youth and adult hockey tournaments throughout the fall and winter. The Area 24 Special Olympics host their charity hockey game to benefit local area Special Olympic athletes.
The ice arena also offers open skate times all year and will accept bookings for private parties.
The ice arena is located on the campus of West Shore Community College between Ludington and Manistee.
For more information about the ice arena, hockey tournaments, and open skates, visit West Shore Community Ice Arena and get ready to have some fun!
Other Buildings
Schoenherr Campus Center
This eye-catching building opened in January 2008, and houses the library, bookstore, Office of Student Services and the Women's Resource Center. The food court serves up burgers, sandwiches, soups, and salads. The Campus Center is where students and professors come to relax between classes, and go online thanks to the wireless internet. It has an open, airy feeling, due to the number of windows and is the focal point on campus.

Technical Center
Here is where you'll find classrooms and laboratories for the various occupational programs the college offers. Many students are enrolled in the nursing and allied health programs as well as criminal justice. Computer labs are located in the Technical Center for students to use.

Arts & Sciences Center
Here is where Center Stage Theater is located, which is the venue for various concerts, plays, and performances throughout the year. The area was recently renovated, allowing more room backstage and in the theater itself. All the science classrooms and labs are also housed here. 

Administrative & Conference Building
The Office of the President is located here, as well as the Business Office, Human Resources, Campus Services Office, and Tech Prep culinary classrooms and labs.

Whether you're a high school graduate or have been out of school for years, West Shore Community College is a great place to get started on your future career.


For more information on West Shore Community College, please contact:
West Shore Community College
3000 S. Stiles Rd., Scottville, MI 49454
(231) 845-6211