Wedding & Celebration Entertainment in West Michigan
Before, During, or After Your Wedding or Party... There's Great Entertainment Available in West Michigan
What's a celebration without music? West Michigan DJ's and bands can set the tone for your upcoming event. From oldies to today's hits, a DJ can customize the songs to match your tastes and a hometown band can really rock your socks off!
And maybe you'll have some downtime in between the festivities and you'd like to explore the area or have some fun. There's such a variety of things to keep you entertained along the lakeshore… tour a museum, enjoy a thrilling dune ride, or visit one of West Michigan's many beaches or parks. Take the family out for a game of mini-golf or play a round at one of our many 18-hole golf courses. You can't leave the area without visiting one of the spectacular lighthouses of the region or catching a beautiful Lake Michigan sunset.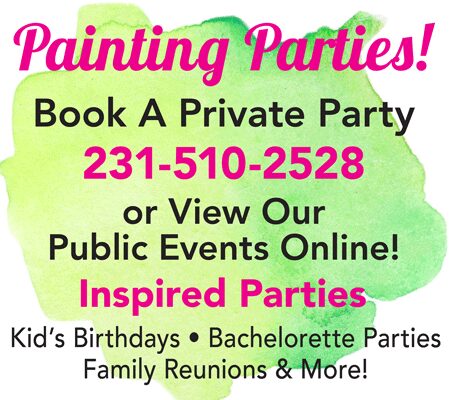 Celebrate your Bachelorette party the creative way by hosting a paint party with your friends! Pick a date, painting, and location, and we'll bring the supplies and provide full instruction. Choose a theme such as wine and paint to make it even more fun! With 10 or more guests, the Bachelorette paints free!
High Fidelity
High Fidelity is a band of 4 Ludington musicians, performing Classic Rock, Hair Band Rock, and more favorites from the 70's, 80's, and 90's. With Lexi Kosla on lead vocals, Dave Kosla on guitar, Steve Winczewski on drums, and a rotation of quality bassists- High Fidelity will rock your venue!
Redux is the husband and wife act of Lexi Kosla on vocals and Dave Kosla on guitar. The two perform hits from the 60's up to today with a variety of mellow rock and straight up rock and roll. They are also available to perform requested music at wedding ceremonies and receptions.
More Wedding & Celebration Businesses in West Michigan
We hope you find all you need to make your West Michigan wedding or event a day to remember. Here are other resources that may help you on your journey.