National Asparagus Festival in Oceana County
Photo by Danielle MacInnes on Unsplash.com
In celebration of Oceana County's most famous crop–the National Asparagus Festival of Oceana County is an annual event, held in mid-June in Hart and Shelby. Asparagus was first cultivated in Greece, and is derived from the Greek word meaning "stalk" or "shoot."
Asparagus is perhaps a lesser-known vegetable than broccoli or carrots, but its nutritional value is one of the highest. It is a good source of folic acid, potassium, and fiber, contains no fat or cholesterol and has less than 5 calories per spear.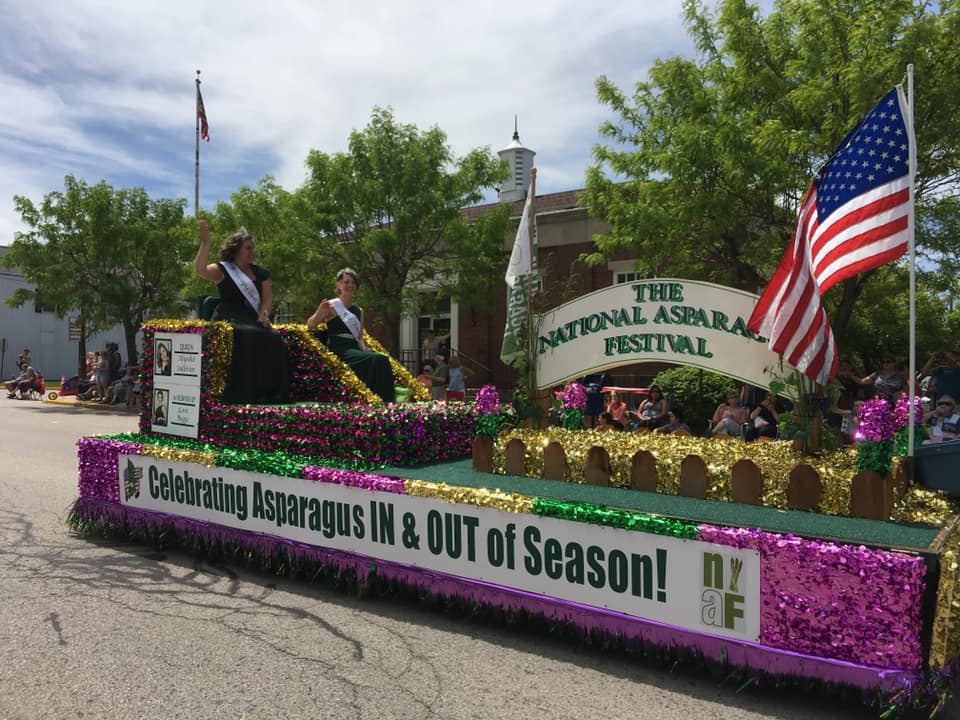 Fresh asparagus can be steamed or boiled for 5-8 minutes, so preparation is fast and easy. There are also many delicious recipes that include asparagus as an ingredient.
Only California and Washington produce more asparagus than Michigan.
Due to concerns surrounding the COVID-19 virus, the event was canceled and a modified schedule of events was put in place for 2021. 
Typical Event Schedule:
Thursday
Asparagus Queen Pageant & Fundraiser, Crowning of Asparagus Queen, 7pm, Shelby High School Auditorium
Friday
NAF Information Tent, 10am-6pm
Arts & Crafts Fair, Oceana County Courthouse lawn, 10am-6pm.
Family Entertainment- Outdoor Movie, tent State & Main streets, 6pm
Saturday
Ryan Walsworth Spear-It 5k Run, Silver Lake, registration 7:30am, race at 9am
NAF Information Tent, 9am-5pm
Arts & Crafts Fair, Oceana County Courthouse lawn, 9am-5pm
Asparagus Farm Tour, 9:30am
Taste of Asparagus, Knights of Columbus Hall, 11am-1pm
Kidz Zone, downtown Hart, 11am-2pm
Joan Glover NAF Royale Parade, beginning at Oceana County Fairgrounds ad ending near Hart Commons, 2pm
Post-Parade entertainment by Scottville Clown Band, tent at State & Main streets, 3:30pm
Kidz Zone, downtown Hart, 3:30-5pm
Sunday
Fly-In Breakfast, Oceana County Airport, Shelby, 7:30am-12pm
Events are listed according to the information available at the time of the most recent update to this schedule. The schedule is subject to change. Check for updates at National Asparagus Festival.
For more information on the National Asparagus Festival, please contact the event organizer:
National Asparagus Festival Board of Directors
16 S. State St., Hart, MI  49431
231-861-8110