Photo by Todd & Brad Reed Photography
Manistee's Victorian Sleighbell Parade & Old Christmas Weekend
When the Christmas season is upon us, the Victorian city of Manistee kicks off the festivities in a big way, with its annual Victorian Sleighbell Parade & Old Christmas Weekend. This popular event brings as many as 10,000 visitors to Manistee to experience the wonder of a Christmas gone by. The highlight of the parade is the Belgian draft horses that pulls a 30′ Christmas tree down River Street in downtown Manistee. The entire Old Christmas Weekend is filled with wonderful activities.
Manistee is a great place to pick up those gifts for everyone on your list, and downtown restaurants welcome you into their cozy establishments for a delicious meal. As the snow flies, enjoy the carolers, decked out in period dresses, coats, and top hats. It's certainly the right setting to put you in a festive holiday mood.
For the holiday season, make sure you include Manistee's Victorian Sleighbell Parade & Old Christmas Weekend in your plans.
If you are traveling from outside the area, check out places to stay in Manistee, and Manistee restaurants for your dining options.
And don't forget to make time to visit the many downtown shops!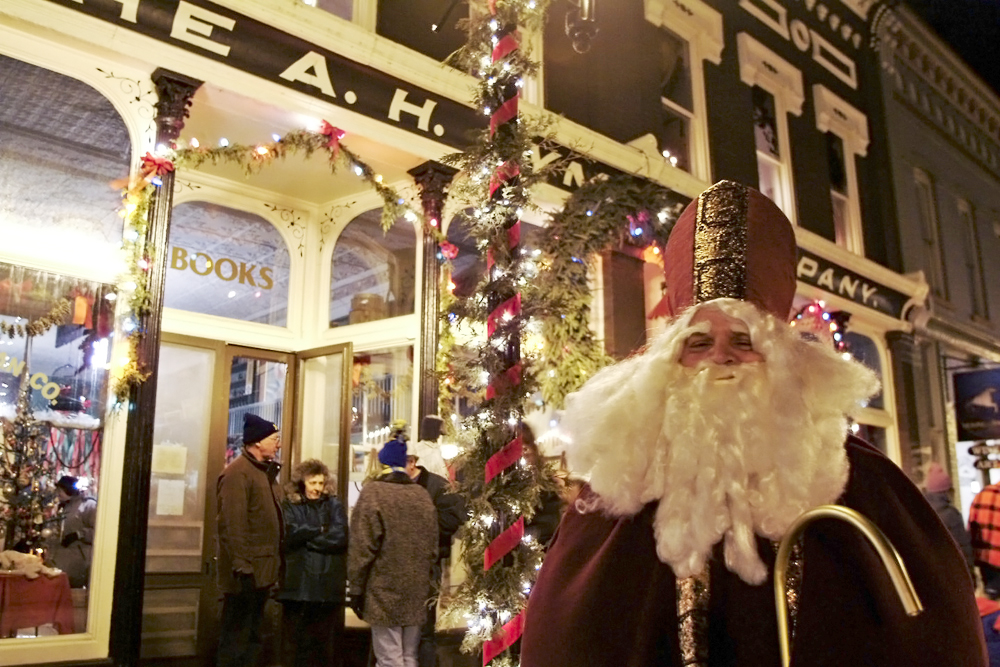 Here is the List of Events from 2021:
Sleighbell Silent Auction during open hours at The Vogue Theatre- 383 River St. 
Manistee County Community Christmas – Decorate your house, yard, get your neighbors together to decorate your block, driveway, mailbox, store windows, school, church, organization, business, or even a bus. A car parade route map through the county with all the entries will be established. All entries will be assigned a number to be used for voting. Prizes will be awarded for both the first place residential and non-profit entries. 
Coat Drive to collect new or gently used coats, jackets, blankets, gloves, scarves, and hats. Dunegrass Co.- 28 Arthur St.
Toy Drive at North Channel Brewery- 86 Washington Ave., Manistee. Those who donate a new toy for a child in need will get 10% off their food purchase.
Free Warming Drinks at Ruddiblush Gallery- 321 River St.
Business After Hours Holiday Edition at the Ramsdell Theatre Ballroom- 101 Maple St. Enjoy hors d'oeuvres, holiday music, and a cash bar. 
Sleighbell Food Truck Court on Oak Street between River & Water Streets. 
Tours of the Ramsdell Theatre at the Ramsdell Regional Center for the Arts- 101 Maple St., Manistee. $5 Admission fee.
Kids Crafts at Downtown Delights- 457 River St, Manistee. After the letter is completed, kids can deliver it to Santa's Headquarters, just across the street. Free.
Lakeside Club's Festival of Trees & Holiday Decor at the Ramsdell Regional Center for the Arts Ballroom- 101 Maple St., Manistee. View and bid on creatively decorated trees, wreaths, gift baskets, and seasonal decor. Bring canned goods to vote for the People's Choice Award. Bring unwrapped toys for FiveCAP's Toys for Tots/Gifts for Teens to be entered into a prize drawing for each toy donated.
The Nutcracker Ballet at the Ramsdell Regional Center for the Arts- 101 Maple St., Manistee. Dancers from Manistee, Mason, and Benzie counties present Tchaikovsky's holiday classic. 
Festive Kids Activities and Cocoa to go at the Manistee County Library- 95 Maple St., Manistee. Free.
Free Downtown Sleigh Scavenger Hunt. Participants look for 1 of 10 hidden sleigh ornaments at participating merchants.
Armory Christmas Dance for students in grades 6-12 at the Armory Youth Project- 555 First St., Manistee. 
Mom2Mom/Holiday Craft Sale at the Conservatory of Dance- 321 Oak Grove St., Manistee. $1 Admission, Children 10 and under are free.
Open House at Old Kirke Museum– 304 Walnut St., Manistee. 
Cookie Fun for Everyone at Manistee United Methodist Church- 387 First St., Manistee. Proceeds benefit Habitat for Humanity of Manistee County.
Sleighbell Breakfast at the Manistee Elks Club- 432 River St.
Holiday Craft Show at Wagoner Community Center- 260 St. Mary's Pkwy, Manistee.
Jingle Bell Jog 5k Run/Walk beginning at Kennedy Elementary School- 550 Maple St., Manistee. 
Free Classic Christmas Movies at The Vogue Theatre- 383 River St., Manistee. 
Spin the Wheel at Port City Emporium- 306 River St. Spin the Wheel for a chance to win prizes and discounts.
Open House & Tour at St. Paul Lutheran Church– 313 4th St., Manistee. Includes Christmas ornament craft for kids and refreshments. Free.
Free horse-drawn carriage rides down River Street. First come, first serve.
Homemade pizzas and sloppy joes at the Manistee Moose Lodge- 1010 Robinson St., Manistee. Open to the public. No cover charge.
Santa's Headquarters at the Manistee Marina- 480 River St., Manistee. Sponsored by RE/MAX- Randy Zakrajsek. Visits and photos with Santa. 
Candycane Stilt Walkers will stroll the streets.
MaxwellTown Brass Christmas Performance at 390 River St. sidewalk.
Cocoa and baked goods at Northern Spice Company- 378 River St.
Organ Grinder Gordie will provide Christmas music throughout the streets.
Bell Ringing at Guardian Angels Church- 371 Fifth St., Manistee. Free but donations accepted.
Free Roasted Chestnuts sponsored by Kendra C. Thompson Architects.
Hot Cocoa at City2Shore Real Estate (Port City Associates)- 340 River St., Manistee. Donuts, cookies, hot chocolate, coffee, and treats for pets provided. 
Victorian Sleighbell Parade on River St. in downtown Manistee. Sponsored by West Shore Bank. Follow the last parade entry for caroling and tree lighting. Free.
Sleighbell Fireworks at Manistee Municipal Marina area. Sponsored by Jeff Reau of Edward Jones. Free.
Jingle Bell Jam at American Legion Post 10- 10 Mason St., Manistee. Live music by four bands to raise money for Toys for Tots/Gifts for Teens. Admission is $10 or a new, unwrapped gift.
Ladies Holiday Bazaar at Beyond the Mirror- 290 First St. Vendors & crafts, and pictures with Santa.
Lessons & Carols at Trinity Lutheran Church- 420 Oak St. The Advent and Christmas Story in Word & Song. A service of Bible readings, congregational singing, and choral music celebrating the birth of Christ with a Dessert/Social Hour to follow.
For more information on the Manistee Victorian Sleighbell Parade & Old Christmas Weekend, please contact the event organizer:
Manistee Downtown Development Authority  
(231) 398-3262