Photo by Andy Wang on Unsplash.com
There's Yummy Meals & Drinks Around Hamlin Lake
You can drive by car… or even boat to a great restaurant in the Hamlin Lake area. Dine around Hamlin Lake or just a few miles away in the surrounding communities.* Choose from fine dining, cozy cafes, pubs, coffee shops and good old-fashioned family restaurants. Each place comes with small-town, friendly service that will make your dining experience complete. Bakeries, chocolate shops, and ice cream parlors are sure to sweeten your vacation. Breakfast, lunch, or dinner is served for your enjoyment.
*Please note, restaurant dining rooms may be closed due to COVID-19 mandates, and ads may not reflect the menu and buffet changes required during the pandemic. We encourage you to click through to the business' websites for current information.
Food & Beverage Around Hamlin Lake
Offering the largest selection of watercraft rentals to explore beautiful Hamlin Lake, including paddle boats, canoes, kayaks, tandem kayaks, stand up paddle boards and rowboats. Also fishing and camping supplies, grocery and personal items, clothing, beach supplies/toys, and tubes to float the Sable River. Open seven days a week mid-May through October.
Food & Beverage Near Hamlin Lake in Ludington
Find plenty of additional options for delicious food and beverages just 4 miles south of the Hamlin Lake area in Ludington proper! There's great pizza, home-cooking, and fine-dining for you to enjoy in Ludington while visiting Hamlin Lake.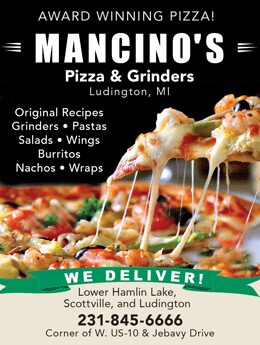 Original recipes and uncompromised quality make Mancino's a local favorite! We use only the freshest ingredients and our grinder and pizza dough is made from scratch daily. Serving wings, salads, pasta, wraps, specialty pizzas and traditional favorites. Dine in, carry out. Delivery to Ludington, Lower Hamlin, and Scottville! Open daily at 11am.
Good home cooking since 1942, featuring homemade baked goods. American food with a few Greek, Italian, and Mexican dishes. Daily specials. Fri.--all you can eat fish fry; Sun.--roast chicken. Beer, wine, cocktails. Historic family restaurant, downtown Ludington.
Friendly, fast, affordable. This family-style restaurant has a clean, cheery atmosphere, casual nautical decor. Breakfast, lunch served daily starting at 5am. Great flavors, hearty portions, homemade soups. Closest family restaurant to the Lake Michigan Carferry dock, just one block from Harbor View Marina. Free Wi-Fi.