Dune Grass Concessions in the Ludington State Park
Dune Grass Concessions Welcomes You to the Ludington State Park!
Whether you are overnight camping at the Ludington State Park–or simply visiting the park for a day trip to hike the trials, bike,
swim, explore the beach, canoe the lake, or float down the river–Dune Grass Concessions is ready to serve you. They offer food, ice cream, fun rentals, and convenience items at three locations within the Ludington State Park!
Three Locations Within the Ludington State Park
The Cedar Camp Store is located at the entrance of the Cedar Campground Loop, and has all the provisions required for a great camping experience. Wood, ice, groceries, toys, apparel and souvenirs are all available at the Cedar Camp Store, along with a variety of bait, bug spray, sun screen, hats, candy, and more! 
Bike rentals by the hour or day are available at the Cedar Camp store location. Watercraft rentals are available at the Hamlin Lake Concession building Memorial Day weekend through Labor Day, however you may rent watercraft at the Cedar Camp Store when the Hamlin Lake concession is not open.
The Cedar Camp Store is open from 9am-9pm every day from May through October.  Hours are weather permitting, and may change slightly during the slower months.
The Hamlin Lake Beach Concession is located at the east end of the park, near the Hamlin Lake boat launch. This location is a great alternative to the Lake Michigan beach when temps are a bit cool or on breezy days. Hamlin Lake is warmer and protected from those west winds. The food and beverage options at Hamlin are similar to those offered at the Lake Michigan Beach House.
The concession sells beverages, hot dogs, pizza, subs, snacks, novelty ice cream, chips, and more. 
Watercraft rentals are available at this Hamlin Beach location, featuring solo kayaks, tandem kayaks, canoes, Stand Up Paddleboards (SUP's), and row boats.
The Hamlin Lake Beach Concession is open from 10am-7pm (weather permitting) every day from late May through early September, and during weekends through October.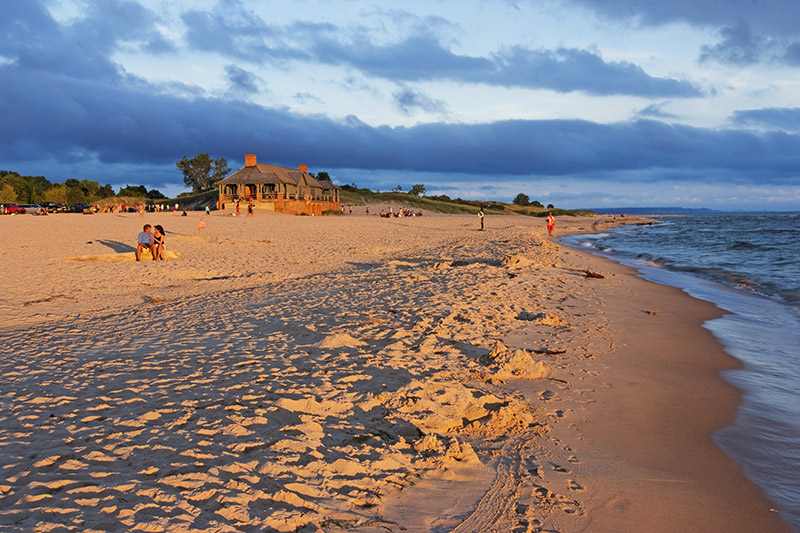 Lake Michigan Beach House
The Lake Michigan Beach House is located at the west end of the Ludington State Park on the shore of Lake Michigan. It's a great place to have your morning coffee while overlooking the lake, or enjoy a hand dipped ice cream from our concessions while experiencing brilliant sunsets each night.
This historic structure has concessions in its lower level. Tasty choices include pizza, hamburgers, chicken strips, hot dogs, subs, snacks, beverages, and hand-dipped ice cream.
You may also purchase beach toys, sun block, clothing, and souvenirs.
The Lake Michigan Beach House is open 11am-9pm (weather permitting) Memorial Day weekend through Labor Day weekend.
Watercraft & Bicycle Rentals
Dune Grass has a wide variety of watercraft rentals at the Hamlin Lake Concessions building. All rentals include paddles and PFD's. 
You will find a variety of tubes available for purchase at Hamlin Lake Concessions, the Cedar Camp Store, and the Lake Michigan Beach House.
You can have great fun exploring the state park when you rent a bicycle that's just your size, from the Cedar Camp Store, by the hour or day.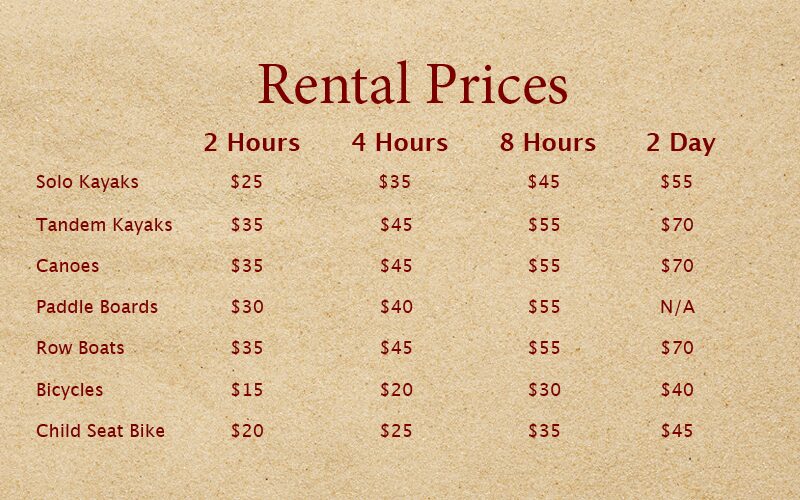 A driver's license is required with rentals,  and is held as a security deposit until the equipment is returned. If a driver's license is not available, $20 cash can be used for a security deposit. 
Duneside Concessions accepts Mastercard, Visa, Discover, or cash. (No checks.)
Every person is required to have a personal flotation device (PFD) in their watercraft. Children under the age of 10 must wear their PFD at all times, as this is a State Law. (PFD's are included in your rental.) 
Rental hours are 10am-7pm daily, weather permitting. Earlier rentals are available through the Cedar Camp Store. All watercraft must be returned to rental facility one hour before dusk.
Ludington State Park Watercraft Trip Suggestions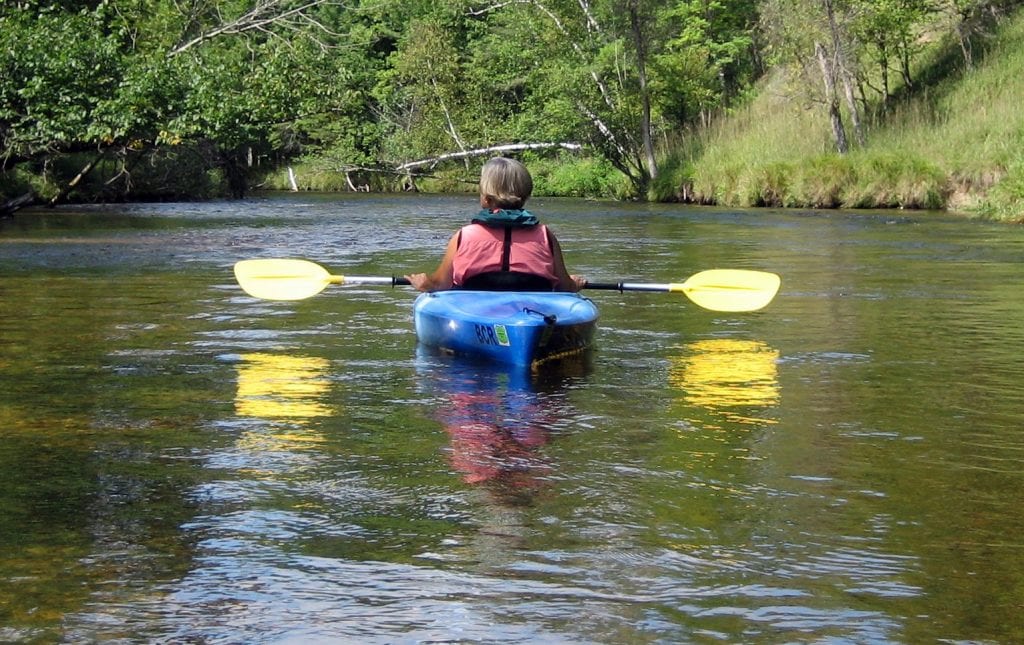 It takes approximately two hours to paddle through Lost Lake where you are protected from the wind and have the opportunity to see many inlets and islands, and an abundance of wildlife such as ducks, geese, deer and eagles.
The State Park's canoe trail takes approximately three hours to paddle. It is a marked trail and is approximately four miles long. The trail hugs the south shoreline of Hamlin Lake and into bays and marshes along the lake. There are three shore potages on this trip.
The marshes are excellent wildlife habitat and wildflowers are abundant at various times of the year. The trail is exposed to the wind when you are on Hamlin Lake, so be aware of the conditions prior to launching.
Dune Grass Concessions at the Ludington State Park is owned and operated by Jeff & Patty Beilfuss. They spent 35 years running their family business, Baldwin Canoe Rental, where they provided river trips to thousands of people each summer. They had also developed two private campgrounds for paddling customers on the Pere Marquette and Pine Rivers, and restored a motel as well. When the youngest of their three children left the house they decided it was time to make a change in life, so they sold the family business and took on a new challenge at Ludington State Park. With their past experience in the watercraft and camping business, they knew it would be a good fit for them.
What an awesome place to come to work each day! Jeff and Patty feel so blessed to be able to spend each day at a location where generation after generation are building family memories that will last a lifetime. They have made many changes since they arrived in 2013. They greatly increased the selection of watercraft rental options at the State Park, and purchased new rental bikes. They gave the Cedar Camp Store a fresh new look, and made the decision to offer hand scooped Country Dairy Ice Cream (out of New Era) to all their customers at the Lake Michigan Beach House and Cedar Camp Store. Menu items have also been tweaked at both concessions locations as well.
"We look forward to seeing you this year at Ludington State Park."
 — Jeff and Patty Beilfuss, owners of Dune Grass Concessions