Amber Elk Ranch of Ludington
West Michigan Guides Stock Photo
Family Fun Starts at Amber Elk Ranch!
Experience the Great Outdoors on a Wagon Tour!
Perhaps the most thrilling experience of the tour is when the wagon pauses to feed the elk. Smelling the grain carried in buckets on the wagon, the elk move near, curious and seemingly at ease with the tour guide and passengers. Often, a friendly elk can be enticed to gently nibble from your hand.
Tours leave approximately every hour in-season, starting at 11:30 a.m.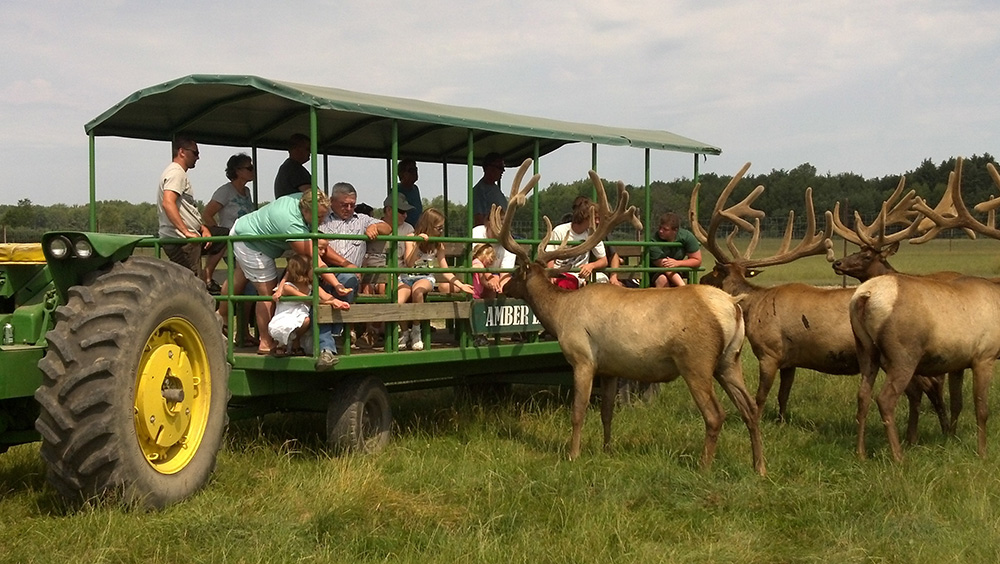 Visit the Antler Shed Gift Shop
While waiting for the next wagon, visitors can browse the wonderful gift shop, the Antler Shed. It's a great place to spend time browsing among unusual items for sale, ranging from rustic furniture and antler decor, to stuffed animals and many antler products. Elk meat and jerky are also available. Along the log-rail fence hang dried elk antlers, sold for making lamps, knives, ornaments and other products. Each spring, a new elk antler begins to grow at up to an inch per day for several months before it starts to calcify and turn hard.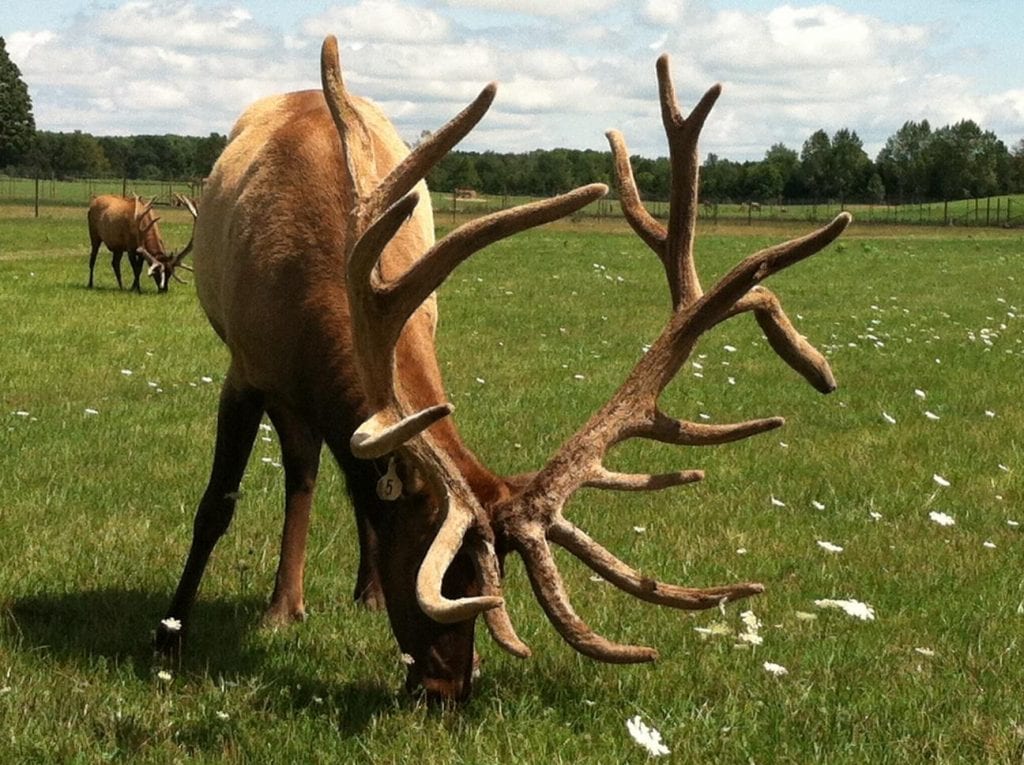 When a Bull Elk throws his head back and bugles, his call can send shivers down your spine! This haunting sound is heard frequently at Amber Elk Ranch, just minutes from Ludington. Visitors can take a tour of this 130 acre ranch aboard a comfortable wagon towed by a big farm tractor, traveling through fenced-off sections of pasture and pine groves holding pregnant cow, elk, yearling elk, and fully-antlered bulls.
Don't Miss the Saturday BBQ!
The ranch also welcomes you to their Saturday BBQ from 1-7pm, weather permitting. Menu includes delicious options such as their famous elk burger, spare ribs, pulled pork sandwich, corn on the cob, baked beans, chips, and beverages. Prices are very reasonable, even for a large family!
Come Visit the Elk Ranch Soon!
Amber Elk Ranch is open Memorial Day Weekend through Labor Day and on fall weekends. 
Read About More Featured Businesses in West Michigan...